Biography
Over the past 20 years, the imagination of illustrator and painter Louise Naud has entered the privacy of thousands of homes. Her works of art with sceneries and faceless characters carry us to her playful and colorful universe. 
Her childhood 
A self-taught artist of French Canadian origin, Louise lived an extremely joyful childhood in Barraute, a village in the Abitibi-Témiscamingue region in northwestern Quebec. A region renowned for its lakes and rivers where dozens of mining shafts reaching out to the sky to extract rich minerals from its fertile gold bearing earth where the forest ignites just before the twilight, where the northern lights dance on a star filled sky, where we can enjoy the long hot summer days as well as the rigorous winter nights… It is in this rich and colourful universe of wonderful landscapes packed with heart warming ambiances that filled Louise's childhood memories, which joyfully inspired several scenes that she so cleverly brings back to life with her paint brush.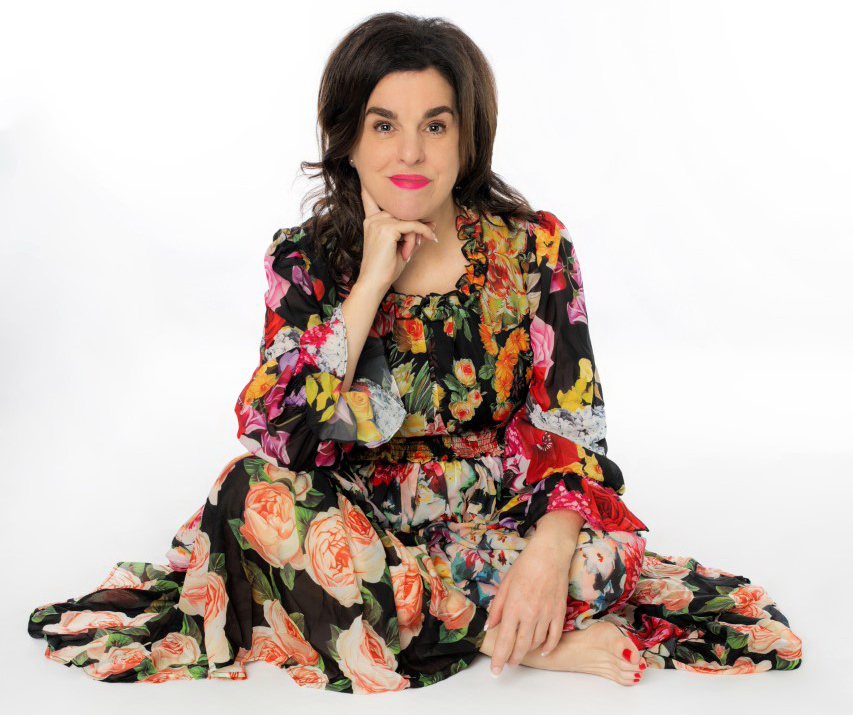 "I remember, when I was very young, I would go to sleep under the glance of all these colours and I would imagine all these little people that were playing and having fun and I would think of  the ones  I would be drawing the next day"
In his native village, there is no school specializing in art. Very young, she has the talent and the passion but it is on her own that she works to improve her technique. "As a teenager, I admired the great designers of this world like Hergé and Uderzo. I scrutinized every detail of their characters and it fascinated me. The passion for drawing and painting was already running through my veins" comments the artist.  
After high school, Louise continued her studies, abandoned her passion and joined a telecommunications company. 
It's 15 years later, during an English immersion course in Toronto that she rediscovers the great Canadian art galleries.  "I had the greatest fascination of my life" claims Louise.  She spends all her weekends and spare time visiting these art galleries in several parts of the town and it was then and there, that her creative and colourful passion that had once filled her childhood and teenage years was reborn. 
On her return from Toronto, she was drawn back to this universe of colours and creation and finally, in 2000 she decided to display her artwork in public for the very first time. She realizes that the scenes that filled her childhood which she brought to life on her canvas, were reaching the public, touching them and making them smile. 
"Getting back in touch with my creative world brought me balance and new energy to get through everyday life. It was very positive in my life" recalls the artist. 
The psychology behind the artist 
Behind this work hides the artist's psychology. 
"I have often been asked why my characters are created faceless. For me, you cannot define a person by his appearance. There is a story behind every human being. To define a person, you have to look beyond his face, you have to see his soul. I believe that my faceless characters allow people to find themselves, to define themselves, to revive memories and sometimes even to create a story of their own. These faceless characters have always been my way of inventing them" comments Louise. 
Louise is also aware that we live in an era where everything is going fast, where production dominates and in which our happiness and our pleasures are second and sometimes last. With her sceneries and her characters displayed in multiple colors, she wants to make people smile and demonstrate that it is important to have fun in everyday life, bring a feeling of simplicity and joie de vivre. 
Her generosity 
Since 2005, her commitment has earned her a lot of recognition; several of her works of art have been sold at auctions for the benefit of various organizations such as the Montreal University Mental Health Institute, the Olo Foundation, the Montreal Children's Hospital Foundation, the Théâtre français de Toronto, Leucan and Centraide Abitibi-Témiscamingue. In 2020, the work entitled "A Challenge to Victory" sells for $ 12,000 in favor of the latter organization. 
For Louise, painting is a manner of expression in itself and a way of marking time through places and souls. Today, she knows that her creativity is a gift, that art is her passion and that challenges are her strength. 
The company 
Her colorful scenes with faceless characters quickly became popular. 
In January 2008, her paintings entered a prestigious art gallery in the Toronto business center. That same year, she officially created her company, Créations Louise Inc., and launched her website. Until 2019, she continues to work full time at Bell Canada and runs her own business in the evenings and weekends. 
 "I was ready for this in 2008: I had work experience, I felt proficient and I was helped to succeed in investing so many hours of work each week. Today, each and every one of my works of art is a new challenge for me and brings me incredible energy. I am happy to have only one job, being a full-time illustrator and painter. This work occupies me greatly because beyond the creation of my works, I manage and supervise all my reproduction contracts. " 
To date, she has exhibited in Canada, France and Bulgaria and more than 230 of her works of art are in private and public collections. 
Welcome to the imaginary world of Louise Naud…